If you're new here, thank you for stopping by.
I believe you are capable of building a body of work that speaks to your experience and expertise. That's why I am giving you this eBook for free.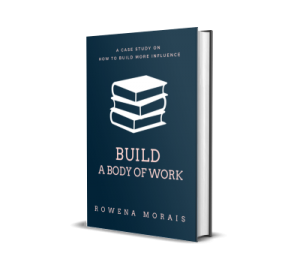 Who is this site for?
This site is here to support those who need to reach out to, connect with and influence others primarily through the written word. What does this mean?
Either :
1.You're new to writing
You know you've got something to say but you're not sure you can achieve the impact you're after, purely with the written word. You're passionate, always learning, always eager to share and you long to be part of a bigger community of people who share the same passions and ideas. You know that words are powerful and that words help you influence others.
You want to write yet you know you need some help. Either someone to give your work a once-over, to check for typos or bad grammar or to give you a second opinion on how you've phrased something. You want to make sure the body of work you create is aligned with the image you've built for yourself and the expertise you have in your field. You need some guidance to create work that will build on your strengths and that will support you.
Or
2.You're an old hat at writing
You've been writing for a while, maybe you've had a blog for years and you've developed a community of like-minded people. Perhaps you've even written a book. You've established yourself professionally.
You've got a plan – an ambitious one – that calls for more writing. Guest posts or regular blog posts, a new book or more. And you know you can't do it all. You need help, someone in the background, who will be there to stand with you and make things happen. A voice that blends seamlessly with yours, bringing your vision to life.
What kind of writing are we talking about?
Branding and communication
website copy;
event brochure copy;
company profile;
marketing collateral.
Content marketing
long-form blog posts or articles;
podcasts;
infographics;
eBooks;
whitepapers.
Profile development
LinkedIn profile;
online or written Résumé;
personal website.
What kind of services do I offer?
editing;
writing;
repurposing of existing content;
developing an Editorial Calendar;
refining your content focus;
assistance with identifying your readership.
Where do I serve my customers?
Currently based in Kuala Lumpur, Malaysia, a customer of mine can be based anywhere in the world. The beauty of writing is that it can be undertaken anytime, anywhere. As such, I have customers both within Malaysia and abroad.
Why choose me?
I have a ton of experience built up over the last 19 years. Having run a niche Human Resource publication, HR Matters Magazine (print and digital) for eight years, I now focus on creating and strengthening Vertical Distinct, a media and learning company that supports Technology and Human Resource professionals.
I have worked closely with and collaborated with top industry gurus and thought leaders across both these sectors, have developed and rolled out content and editorial plans and have honed my skills in understanding what readers want.
I offer passion, dedication, expertise and a desire to help you succeed in your sphere.
What's on this website?
Free services | The aim of this site is to help you on your journey. I can help you with getting more clarity, developing the courage and commitment that you need to make a go at this and deliver on the things you want to create, at whatever stage of the journey you are at. Just like you, I have been on this journey. I have been unsure, ill-prepared, lacking the confidence to move forward a step. I too have failed. But I have also learnt many lessons along the way. And it is this that I aim to share with you so that you become empowered to do what matters to you.
Paid services | Whether it's writing, editing or help with developing and strengthening your voice or personal brand, I can help you move forward.
There's only one way to know. Enough thinking. Just do it.
Let's get started.
For the things we have to learn before we can do them, we learn by doing them – Aristotle