What does it mean to become the hero of your own story?
You become powerful and confident. You are in the driver's seat of your life journey and that is a wonderful place to be. But this is not necessarily the case for every one of us nor something that we are born into.
We move into that space over time and with experience.
Words give weight and meaning to what we experience, to how we feel.
Last week, I had a fireside chat with Fabiola Campbell. We talked about her career journey and the work she has been engaged in for some time. Fabiola shared her journey as someone who was born in Australia who then moved back to her home country, Venezuela, and continued her schooling through to university back home, graduating in criminology. Fabiola returned to Australia in her adult years, ready to start her work life. But she struggled with language and the other unspoken barriers to employment.
For the first few years, she struggled to find a job. Even when she did secure roles and thrived in them, she faced more barriers. And here's an interesting thing about language.
Words are powerful. Words give weight and meaning to what we experience, to how we feel. Likewise, without words to describe what we face, what we believe, what we see happening around us, it calls into question whether we experience those things in the first place.
Fabiola found that she was putting herself forward for more projects and opportunities and yet, she found others less experienced being given opportunities. She was denied but there were no explanations, no discussions. She did not have the words for this experience at the time but she knew in her gut that something was wrong. 
As Fabiola began to master the English language, she began to find the words to express her situation. She understood and could express what she felt. 
She felt invisible. So this is what she did to address her situation.
"If you wear your story as your armour, nobody can use it against you," Fabiola shared.
She reached out to seek input from others. She started to surround herself with people she admired and who she believed she could learn from. She looked for others in positions that she wanted to be in too. She drove the change she sought.
As she resolved her situation, she felt stronger, more determined than ever. "If you wear your story as your armour, nobody can use it against you," Fabiola shared.
Close to three years ago, Fabiola made the bold move to become the Founder and Mentor of Professional Migrant Women, an organisation she created to reduce the gap between migration and professional employment for women across Australia.
"I'm passionate about the role of women in our society. I believe in creating significant connections that build strength in our differences and value our uniqueness. I am a professional migrant. I lived the struggle of not getting jobs I was well qualified for. I didn't have the personal support I needed back then. I didn't have the networks and knowledge about the recruitment process here. It was difficult for me to break into the job market. But I worked at it over the years. I developed the skills and the network and now, I can help others to do the same. My goal is simply to help these women approach the Australian job market with confidence. "
The struggles Fabiola faced are not new. They still happen today.
Fabiola views all of this with an element of compassion. "People do what they do because they know nothing better," she explained. Fabiola talks about the game of inclusion as the game of awareness and stresses the importance of being compassionate to others and to the self.
This is the Thrive Meetup which occurs online. An opportunity to hear other women and their career journeys, the ups and downs, how they navigate the challenges and more. An opportunity to connect with women from all over the world, all walks of life. But a small group of women in a safe space so that we can have conversations that matter. At no cost.
If you are a migrant woman and looking for more professional opportunities, then connect with Fabiola who would be happy to chat and see how she can assist.
You can become the hero of your own story.
The meetup that ran.
The meetup guests.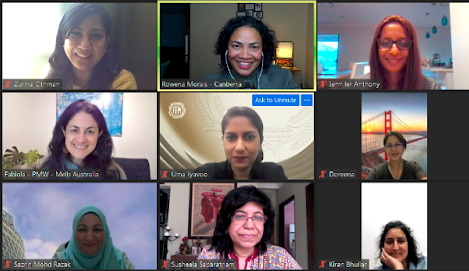 Further resources:
Connect with Fabiola Campbell on LinkedIn
Visit the Professional Migrant Women website
Find out about our past meetups by searching/following #ThriveMeetup
Interested in joining a future meetup? We meet monthly and joining in is complimentary (registration required). Find out more about past meetup topics and guest speakers and join our mailing list to stay updated on upcoming meetups
Articles on past meetups I have led include:
Thrive is a women-only private group founded by Rowena Morais. We empower career women by connecting those who are starting out professionally (and needing support) with the more established women (who can mentor and share ideas). Thrive focuses on helping women develop their profile, network and body of work. Thrive runs complimentary monthly meetups for career women.
#DigitalProfile #ThriveMeetup #CareerWomen #CareerJourney