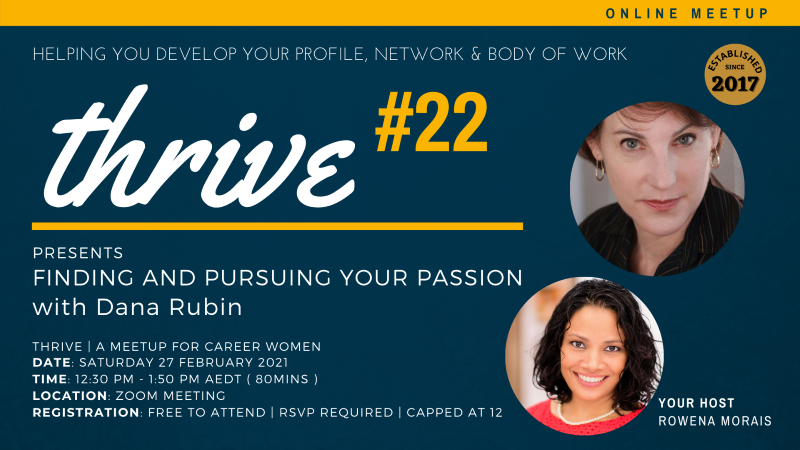 Thrive #22 presents Finding and Pursuing Your Passion with Dana Rubin

About Dana Rubin
With over 25,000 LinkedIn followers, Dana Rubin is someone to be followed closely and especially so, if you are a woman. The founder of Speaking While Female, Dana is an advocate for women's speech and voice. She helps organisations to develop their female talent to be recognised experts, brand ambassadors, role models and rainmakers.

Dana has been invited to address this Thrive meetup for a few reasons:
I've known Dana for many years now – she is a great speaking coach. She is a long-time annual judge for the Cicero Speechwriting Awards which recognises outstanding speech and speechwriters from around the world
Dana coaches speakers for TEDx and other conference and boardroom presentations and high stakes interviews
Dana spent 17 years in journalism, writing editing and producing for a number of media – Dallas Morning News, San Jose Mercury News, Texas Monthly Institutional Investor, Readers Digest, CBS News, Dan Rather Reports and more
Dana has been researching and speaking about women voices for a long time. She wants every woman to be able to say that they are pursuing something they are passionate about.
Thrive Meetup Details
Date: Saturday, 27 February 2021
Time: 12.30 PM AEDT (Canberra time)
Format: Zoom call (video ON)
Registration: Required
Cost: Free
Guests: Capped at 12 on a first-come, best-served basis
Thrive Meetup Agenda
12.30 PM – 12.45 PM Introductions and networking (15 mins)
12.45 PM – 1.15 PM Rowena Morais chats with Dana (30 mins)
1.15 PM – 1.45 PM Moderated discussion open to the group (30 mins)
1.45 PM – 1.50 PM Wrap up and photos (5 mins)
1.50 PM Close

About our Session
Dana's career journey, how she moved from journalism into teaching at the NYU Stern School of Business and then as founder and CEO of Speaking While Female
What Dana's network looked like in the early days and how she grew this
Dana's impressive body of work. This includes her writing, her founding the Leadership Communications Roundtable for the last 16 years and the Speaking While Female Speech Bank, a showcase for women speakers across time and around the world
How Dana found her passion and what made her pursue this relentlessly
How women can begin finding their passion
Roadblocks, challenges and bumps in the road
A call to action for women
Important Information on Thrive Meetups
Meetups are complimentary to join for career women only but require registration
Meetups are limited to 12 guests to ensure optimal engagement and participation for all
If you have signed up and need to cancel thereafter, please provide early notice (at the very least, 24 hours) so as to enable other registrations to come through
While informative and educational, this is not intended as a webinar but as a meetup. Guests are expected to put their video on and to mingle, chat and ask questions.
Meetups begin and conclude on time and guests are expected to be punctual. Late entrants (more than 10 minutes) will not be allowed in to avoid disruption.

Selection of Recent Meetups
While the meetups began as face to face gatherings in 2017, they transformed into online gatherings from 2020 onwards. These are a selection of the most recent meetup themes.
Thrive Meetups 2020
Thrive Meetups 2019
Thrive Meetups 2018 Q3&4
Thrive Meetups 2018 Q1&2
Thrive Meetups 2017
Selection of Recent Meetup Speakers
About Thrive
Thrive is a women-only private group founded by Rowena Morais. We empower career women by connecting those who are starting out professionally (and needing support) with the more established women (who can mentor and share ideas). Thrive focuses on helping women develop their profile, network and body of work.
Thrive runs complimentary monthly meetups for career women. Guests need to register and the meetup is capped at 14 guests per meetup to facilitate discussion and sharing. This is a meetup, not a webinar
Guests are welcome to join the Thrive Meetup Facebook Group