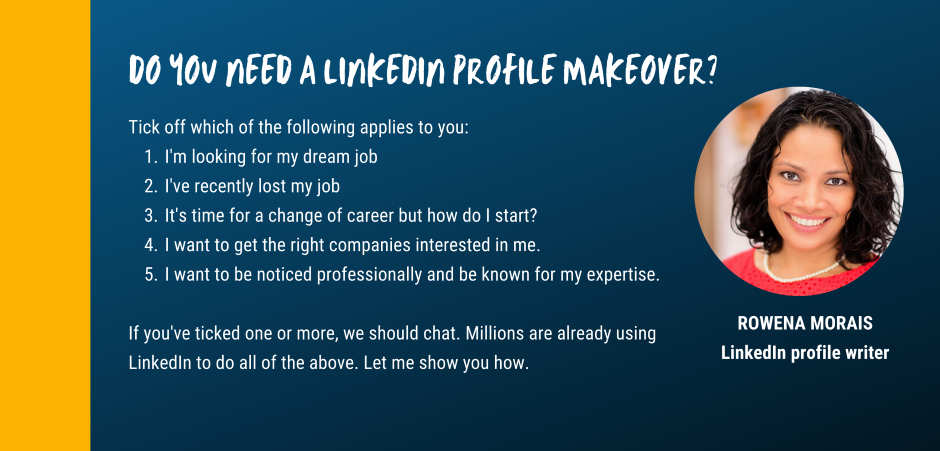 Are you getting the kind of roles you've been looking for? Does your LinkedIn profile speak to the experiences and expertise you can bring to your role?
Have you experienced any of these :
no calls or follow-ups from jobs you've applied to?
an insignificant number of views of your profile?
a small number of connections in your network?
Then, perhaps you need a LinkedIn Profile Makeover.
This Makeover will review the language you've used to describe and position yourself on LinkedIn and address inconsistencies, gaps, typos and general editorial clean up.
What Are the features of this makeover?
a review of your resume, taking into account educational background and work experience as well as all activities that may be supportive of your career journey;
review a selection of your materials – both offline and online – as well as your digital footprint to ensure you create a profile that is a close match to the person you are and that showcases your personality and what you can offer an organisation;
strengthening the copy used to describe your work experience and positioning statements;
development of a strong positioning statement/summary – this section captures who you are, what you do and why people in related fields should get to know you and want to be connected to you;
ensure that the most appropriate 'call to action' (CTA) is on your profile, one that matches your objectives;
feedback on how to take a good picture for your profile image;
appropriate artwork for the background header for your profile page;
keywords to use within your profile so that you are found by people whom you should be connected to, people who might be interested in what you have to offer;
experience and education fields – fully expanded and well described;
projects, volunteer work, courses or other skills that can be inserted and well described;
proofreading and general editing.
What is the investment?
USD430 for a comprehensive LinkedIn makeover.
Are there additional Supplementary Services?
Yes, there are. These are some other areas that can also be supported :
how to ramp up your list of connections;
how to write a "cold call" InMail or invitation to connect;
how to write endorsements;
how to request endorsements;
suggestions on possible posts you can write for upload on LinkedIn Pulse;
how to write a LinkedIn Pulse post from concept to completion;
highlighting and drawing reference to any extra-curricular work or projects you do that complement or strengthen your profile;
the kind of supporting media you can use to strengthen your profile; and
identifying skills and the kinds of additional information that can support your job search.
I'm happy to discuss what sort of help you require. Send me an email with more details and we can take it from there.
Delay = cost you your dream job.
Money back guarantee
If for any reason, you are not satisfied with the changes made, you will get a 100% refund of your monies, no questions asked.
Get started now
You can make a payment with any of the major credit cards using Paypal. You do not need a Paypal account to make this payment.
The payment will be done when you provide your credit cards and my email address. The payment will be sent to my email.
The email address you can use to send this payment to :  rowena@digitalconfluence.info.
#LinkedIn #profile #personal brand
Headline image courtesy Matthew Wiebe at unsplash.com